Frank da Cruz
fdc@columbia.edu
July 31, 2015
Last update: Mon Jun 18 20:28:37 2018
The area around the Jerome Park Reservoir in the Bronx, New York City — Kingsbridge Heights and Bedford Park — is notable for its proliferation of New Deal Projects (i.e. projects created by unemployed people who were put to work using Federal money during the Roosevelt administration, 1933-1943):
The Reservoir itself (repairs) and gate houses (consruction);
The parkland and playgrounds along the southwest edge of the Reservoir;
Lehman College campus and original buildings (described here);

Harris Field (described here);
Bailey Playground (described here);
Murals at DeWitt Clinton High School (in this gallery).
NEW IMAGES ADDED 14 JUNE 2018 in view of the painting-over of the DeWitt Clinton High School ceiling mural, Constellations (at bottom).
Click on the first image below to enter the gallery and read about each New Deal feature. All photos were taken by me on July 31, 2015, unless otherwise indicated.
Jerome Park Reservoir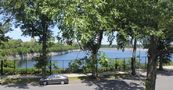 Jerome Park Reservoir Gatehouses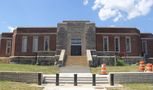 Strong Street Playground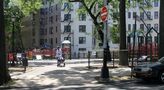 Washington's Walk


















Old Fort Four Park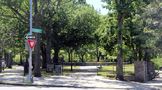 Kingsbridge Armory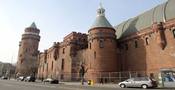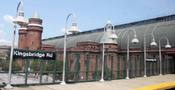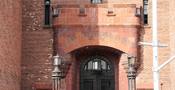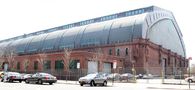 DeWitt Clinton High School Murals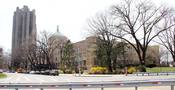 DeWitt Clinton High School Mural Ceiling
In view of the news that the ceiling mural, Constellations, was painted over in November 2017, I have added the following images which were not of good enough quality to publish at first.






DeWitt Clinton High School Mural Notes
These are pages from Alfred Floegel Jr.'s notes that he left with Clinton Principal Santiago Taveras in 2015. I photographed them but did not publish them at the time because they are out of focus.